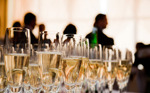 Giveaways
Now it is possible to order CmPicker with your company logo. Perfect to hand out at trade shows.

Become a reseller
To be a reseller for CmPicker should be easy and uncomplicated.
It is in our interest that you thrive and succeed with your sales. Therefore, we strive for high quality service and fast delivery.

CmPicker - A fork with a pusher. Move the pusher forward to release the food.
As simple as that.

Made in Sweden
We can proudly pronounce that CmPicker is made in Sweden.